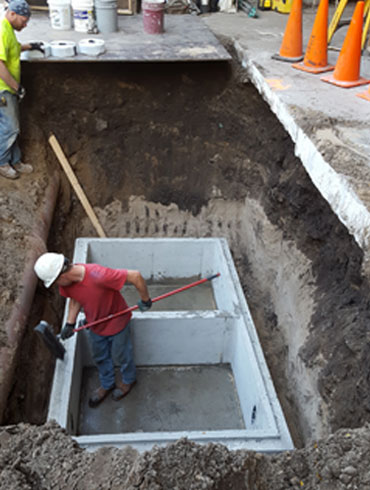 B. Bruce, Inc. is a family -owned and operated company that began as a modest three-person operation in 2002, performing mostly residential service work, along with additions and renovations. We have grown into a multi-million, full-service plumbing company, with as many as 35 plumbing technicians in the field. Our capabilities rival the Chicagoland area's oldest and largest plumbing companies
We offer expertise in new construction, installation, renovation and repair work in the institutional, commercial, industrial, educational, municipal and residential sectors. We take great pride in our history, our growth and our reputation. We work tirelessly to ensure your complete satisfaction on every project.
---
Mission Statement
To provide a safe work environment for our field employees, while providing a superior level of service and craftsmanship, is what guides our actions on the job. When you hire B. Bruce Inc., you are hiring a company dedicated to safety and quality.
Our highly skilled estimating, project management and field technician teams will work with you to confidently take your project from design to completion. We know how critical time and money are, so we complete our projects on schedule and within budget. We hold an Illinois Department of Health certification, and are licensed, bonded, and insured.
Licensing & Certifications
Illinois Dept. of Public Health – Plumbers License
City of Chicago Plumbers License
IDOT (Illinois Dept. of Transportation) – Subcontractor & GC
CDOT (Chicago Dept. of Transportation)
Capitol Development Board, State of Illinois – Subcontractor & GC
Chicago Public Schools – Operations & Maintenance vendor
City of Chicago Vendor
Cross-Connection Control Device Inspector – State of Illinois
Illinois Dept. of Public Health, State of Illinois Plumbing License
Affiliates
Plumbing Contractors Association of Chicago
Plumbing Council
Plumbers Local Union 130 U. A.
International Association of Plumbing & Mechanical Officials.
South Side Plumbing Contractors Association